Dabo Swinney Has a Championship Perspective
We don't need to know how much God really cares about a particular football game. It's enough to know that he cares about each one of us.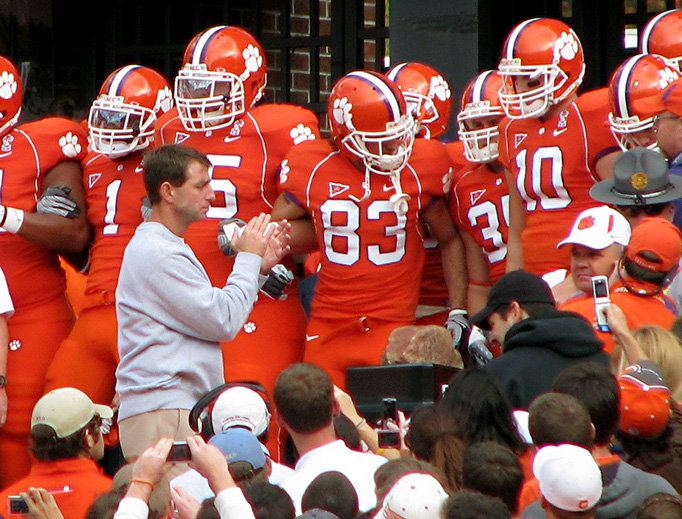 I understand if you checked out from the College Football National Championship on Monday night after the four-hour mark. Both NFL and college pigskin games have become a real investment in time and tolerance with the disgusting amount of commercials.
But if you hung tight, you saw the Clemson Tigers beat the dynasty of the Alabama Crimson Tide with a touchdown in the last seconds — a truly heroic team effort. And if you have ever seen Clemson head coach Dabo Swinney give a post-game interview, you knew it would be worth it to hear what the folksy Southerner had to say.
Last season, Clemson beat Notre Dame in another epic game. In other post-game interview, Dabo recalled telling his players that they were provided scholarships, nice uniforms, a place to live, meals and stipends but he couldn't give them guts and he couldn't give them heart, it was indeed, B.Y.O.G.: Bring your own guts.
Later in the same interview he thanked the Lord and his father.
So what did Dabo say on early Tuesday morning, in the midst of the postgame crowd flooding the gridiron, after his team beat Alabama in a rematch of the national championship last year? Last year, the Tigers fell short to the Crimson Tide. In the midst of this celebration, did he use war terms, sports clichés, false humility or bravado?
It's best just to take in Dabo's words directly. After the ESPN reporter asked him to describe how it's like to win the championship after being in the game before, he answered:
"It's indescribable. I mean, you can't make it up, man. I mean, this is .... only God can do this … take a guy like me from Pelham, go to Alabama, win a national championship, come to Clemson and have a chance to win a national championship against the best team in the country, up until the last second of this game."
With that he gave a bit of his biography, being from Pelham where he would later play for Alabama and be part of a national championship winning team in 1993.
But what was the secret ingredient, the mastermind strategy that allowed them to defeat the Alabama juggernaut this year? True grit, smashmouth football, relentless pursuit, whatever it takes, focus on details, a game of inches, commitment to excellence, etc.? Dabo didn't need to be asked, he just kept going with his comments:
"And to see my guys fight, and just believe. I told them tonight, I told them that the difference in the game was going to be love. It's been my word, my word all year's been love. And I said, 'Tonight we're going to win it because we love each other.'"
Later in the same interview he said he was thankful and blessed and "I'm thankful to the good Lord, all our players." You can see a clip and read the whole transcript here.
It was already so late, I figured I'd keep watching. Soon after this, Dabo and his team officially accepted the championship trophy on stage and again he was interviewed, this time over the public address system to the masses in the stadium.
I found also these comments surprising and particularly profound.
"I knew they wouldn't quit," said Dabo about his team as reported by ESPN's Ryan McGee.
"I talked to them about letting the light inside of them always be brighter than the light that's shining on them! If they focused on that, they'd be OK."
I was also enthused on how Clemson star quarterback and future NFL prospect, Deshaun Watson, and the scrappy, clutch receiver who caught a pair of touchdowns, including the game winner, Hunter Renfrow, both glorified God in their postgame interviews. Like Tim Tebow and many others, these are men not afraid to witness to Him in their biggest moments.
Now, a skeptic might scoff at Dabo's words, "Only God can do this."
Was this just some light-hearted Christian lip service bandwagon talk? Does God really care about a football game?
Well, God cares about each one of us, each of his creatures made in his image and likeness down to the number of hairs on our head and all their activities. I read an excellent feature article by Mark Schlabach about the challenges Dabo Swinney faced growing up.
Initially, Dabo was raised in a strong family setting, until his father, Ervil, turned to alcohol to cope with a business loss. According to Dabo's mother, Carol McIntosh, the drinking turned Ervil violent and forgetful. Eventually, the two divorced when Dabo was still in high school.
His older brothers had already moved on, so Dabo and his mother had to be nomadic, moving from place to place. Not long after Dabo started college at the University of Alabama, Dabo had an apartment with a roommate friend from his hometown and he also asked his mother to live with them. They shared a room for three years and Dabo accepted it as part of God's plan, as he went to school and she worked and was part of his college community.  
In another interesting turn, Dabo also housed his father, years after the two reconciled. His father had given up drinking and was undergoing chemotherapy treatment when he lived in Dabo's basement in the summer of 2015. In August of that year, Ervil Swinney passed away and Dabo said this after that Notre Dame game around two months later.
"And thank you to the good Lord, and my dad who was with me tonight!"
One time as Schlabach reported in his ESPN story, Dabo Swinney found out he had to come up with $550 in tuition, due the next day to stay in college, his Pell grant and student loans had not arrived in time. Both he and his mother didn't have money to cover it and she was turned down for a loan. He ended up going to his knees to pray. Afterwards, he checked his mail and a letter from Discover had arrived. He called and found out he had been granted with a $1000 credit line. Dabo used that to pay the tuition and his apartment rent.
Only God has timing like that.