A Rome Miracle Celebrated by a Mass With Cardinal Burke
The Patron of the Sovereign Order of Malta celebrated Mass March 16th to commemorate a famous Rome miracle involving St. Philip Neri.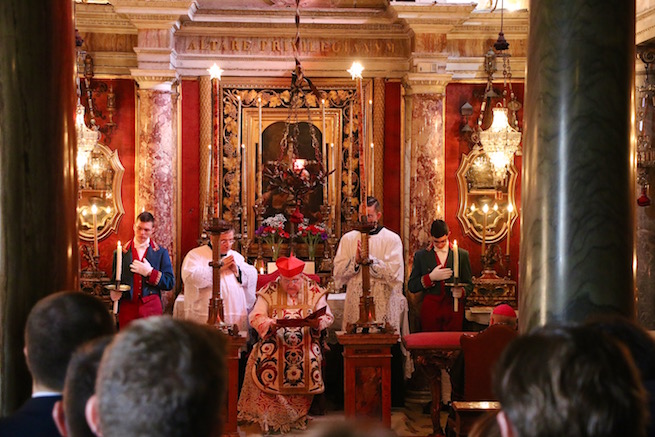 Every year on March 16, the owners of the Palazzo Massimo alle Colonne in the center of Rome throw open its doors to the public for just one day to mark the miracle involving St. Philip Neri and Prince Paolo Massimo.
Always a popular event, attended by hundreds of pilgrims, some coming from other parts of Europe just for the occasion, this very Roman tradition unofficially marks the beginning of Spring in the Eternal City and the imminent arrival of Easter.
To commemorate what happened on March 16, 1583, priests celebrate Masses all morning at the three altars in the palazzo's ornate chapel, with the main Mass usually celebrated by a cardinal. This year, that honor was given to Cardinal Raymond Burke, patron of the Sovereign Order of Malta.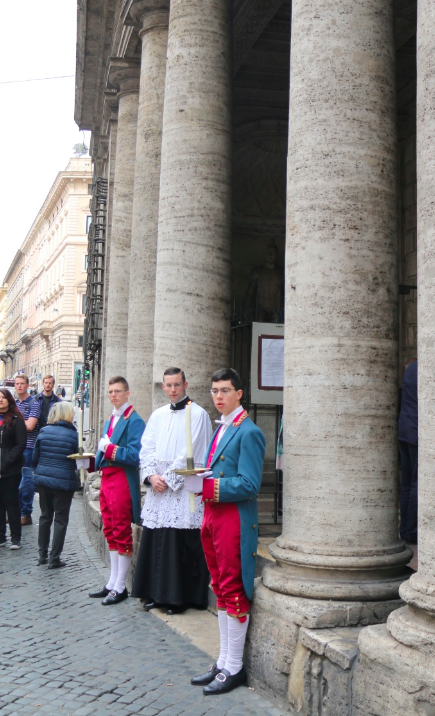 So what did happen that day in 1583? St. Philip Neri, who lived close to the palazzo, had been offering pastoral care to Prince Paolo who had been suffering from a long illness. Paolo was the 14-year old son of St. Philip Neri's friend, Prince Fabrizio Massimo.
When death seemed imminent for Paolo, St. Philip was celebrating Mass at another location but the boy died before he could finish and be informed. He came as soon as he could to the Palazzo Massimo, prayed at the boy's bedside, sprinkled holy water on his face, and, like the Prophet Elijah, breathed upon his face. He then called his name loudly twice, and Paolo Massimo returned to life.
On seeing St. Philip at his bedside, the boy asked to confess a sin that he had forgotten. St. Philip heard his confession and absolved him of his sins. Paolo's family, who came back into the room, saw the boy conversing with St. Philip for a quarter of an hour, seemingly in perfect health.
As Paolo's mother and sister had died a few years earlier, St. Philip asked him if he were now willing to die, to which the boy replied that he wished to see his mother and sister in Heaven. St. Philip then said to him: "Go, and be blessed, and pray to God for me," at which Paolo Massimo died peacefully in his arms.
The room where he died is now the chapel, and the Massimo family, one of the oldest Roman families claiming descent from the great Roman consul and dictator Quintus Fabius Maximus, continue to live in the building. 
The main Mass, which is organized and served by the Institute of Christ the King, was granted by Blessed Pope Pius IX at the behest of Cardinal Francesco Massimo, a member of the family.
Reflecting on the event one year, Father Nicholas Schofield, an English priest, wrote that the miracle "provides an appropriate festa for Lent, inspiring us to consider our mortality and to live each day in readiness to meet the Lord."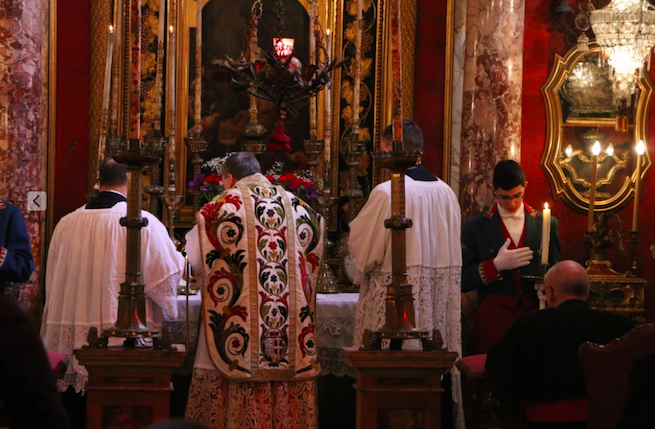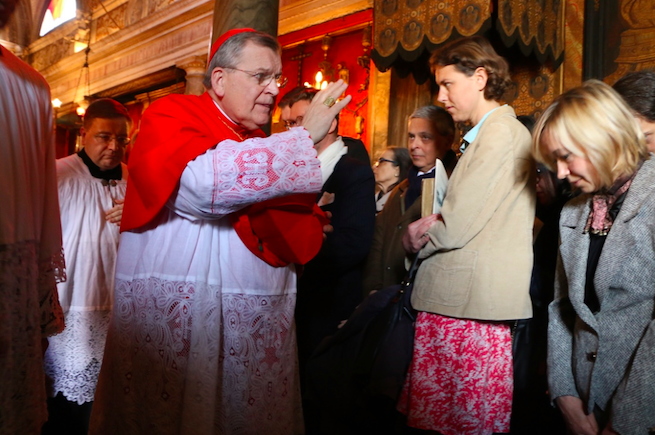 Photos: EMP Photos/NCRegister.com