Tim Tebow's Real 'Wins'
The Broncos quarterback continues to prioritize his faith and time with his fans, win or lose.
The original Jan. 13 story has been updated.
No stranger to national attention before the Broncos playoff win against the Pittsburgh Steelers, Tim Tebow's fame was catapulted into the stratosphere of popular culture last week — leading up to the game against the New England Patriots last Saturday night.
"Tebowmania" will undoubtedly subside since the Broncos were bounced from the NFL playoffs Jan. 14 via a 45-10 drubbing by the Patriots and future Hall of Fame quarterback Tom Brady.
Regardless, Tebow kept things in perspective in a postgame press conference recorded on video and posted by the Broncos.
"Overall, it still wasn't a bad day; it still was a good day because before the game I got to spend time with Zack McLeod and make him smile," said Tebow, referring to a young man who had experienced a traumatic brain injury three years ago while playing football.
"Sometimes it's just hard to see, but it depends (on) what lens you're looking through," he added.
Before the highly anticipated Broncos/Patriots game, national attention on Tebow reached a whole new level.
Consider this: The Broncos/Steelers game was the highest-rated television program — not only sports-related — since last year's Super Bowl.
Tebow's personal Facebook posting about that game has received more than 242,000 likes and 30,000 comments and counting. (Although, these are certainly not all supporters, with some Facebook comments being obscene and blasphemous.) 
Twitter announced that Tebow-related tweets broke a record at 9,420 per second after the Jan. 8 game. In a new ESPN poll, Tebow is now the country's most favorite active athlete.
Details of the game certainly helped the attention. Coming off a three-game losing streak, the Broncos backed into the playoffs with an 8-8 record. Again, the quarterback's passing ability was scrutinized, especially in the last two games, and many speculated that Broncos backup quarterback Brady Quinn would get a shot if Tebow faltered.
Instead, Tebow threw for 316 passing yards in 10 completions with two touchdowns, plus another one running. In overtime, Tebow hit receiver Demaryius Thomas on the first play, an 80-yard catch-and-run play that took only 11 seconds.
Grace Building on Nature
Tebow's passing numbers and their numerical similarity to John 3:16 — the Scripture verse that connects eternal life through Jesus Christ — have also garnered significant attention this week. 
The quarterback frequently wore Bible verses on his eye black while playing in college, including John 3:16 during the 2009 BCS Championship game, an act which prompted 92 million to search the verse on Google. The practice of eye-paint messaging was banned in 2010 for the next season by the NCAA, though they denied that it was directly because of Tebow or any one player or team.
But chalk up Father Matt Williams, the director of the Office for the New Evangelization of Youth and Young Adults for the Archdiocese of Boston, as one who thinks that God does not care who wins at football.
"Does the grace of God make him a better quarterback, give him miraculous skills? I'm not going to go down that road. Is God guiding the football? I don't believe that," he said.
Father Williams instead gave a primer on the teaching of grace building on nature and the effect that Tebow has on his teammates. He said if Tebow is "living a life united with Christ, that is going to affect him in everything he does."
"He's bearing witness to his teammates of what it means to be selfless, what it means to be generous, what it means to be positive — to build up other people. That catches on; that grace flows out of him and touches all of these other men to want to do the same," he said.
"Do you think a guy after hanging out with Tim Tebow wants to turn around and be a selfish guy?" Father Williams added.
As Catholic outreach leader Curtis Martin said in an earlier Register article on Tebow, he admires Tebow for "taking the podium" to acknowledge his Christian faith on and off the field. Martin said in that same article, "If I could encourage him in anything, I would want to introduce him to the growing number of vibrantly committed Roman Catholics that I have come to see."
Father Williams — in a hypothetical meeting with Tebow — would want to engage him with aspects of Catholicism as well. 
"If he loves Jesus that much, how could he not want to receive Jesus in the Eucharist, and how could he not want to experience the sacrament of reconciliation, where Christ forgives us of our sins?" said Father Williams.
He would also advise him to stay rooted in prayer.
"Every day you've got to get on your knees; you have to cling to Jesus. I think he's doing this," he said.
A Unique Cross
Catholic businesswoman Barbara LaVallee considers herself a fan of Tebow, but not a huge one. 
"The media has just put him out there on the forefront, so it's hard not to know what's going on, even if you're not much of a football fan," said LaVallee, who works for a Waltham, Mass., bakery-goods distributor.
The practical effects of fame could suggest a very unique cross for Tebow. In an exclusive interview with USA Today he said that he likes socializing and meeting new people, but "it's hard to create new friendships outside sports."
In the press conference after the Broncos/Patriots game he was asked about the attention and responded that sometimes he doesn't want it at all, as he would like to go to dinner with friends and be a normal 24-year-old.  Yet he said he wouldn't change it, as it has given him the opportunity to help others.
"I have the platform to do a lot more things than football, and I'm very thankful for that platform; and I wouldn't change it for anything," he said.
Along with taking a knee in prayer and thanking Christ in interviews, Tebow has consistently shown his perspective and priority about football compared to other things. He made waves with a pro-life ad with his mother during the 2010 Super Bowl and has also acknowledged his virginity.
"Football is amazing. We love it, we're so passionate about it, as you can see right there," said Tebow in a press conference after the Jan. 8 game.
"But the real win, at least I would say today, is being able to comfort a girl who's gone through 73 surgeries before the game."
Tebow was referring to teenager Bailey Knaub, whom he had met before kickoff.  With his program Wish 15, the quarterback hosts Knaub and others who have suffered traumatic illnesses and injuries — along with their families — at games and hangs out with them afterward, regardless of the score.
Take also his comments following a Christmas Eve loss to the Buffalo Bills. When asked how he was handling the loss — which a reporter thought was the worst game Tebow had at any level — the quarterback recalled his mother once teaching him to give both successes and disappointments to the Lord, and that's the primary way he could deal with it.
"Because tomorrow, you know what," Tebow said, "I still get to celebrate my Savior's birth, and, ultimately, I don't know what the future holds. But I know who holds my future, and that is something that gives me a lot of peace and a lot of comfort when there might be a lot of turbulence around me."
This meeting and the one with Zack McLeod are arranged through Tebow's program Wish 15. Renowned sports writer Rick Reilly highlighted this work in a recent column called
"I Believe in Tim Tebow."
And Tebow has been clear in who he believes in, along with his teammates and coaches. After the loss to the Patriots, the media swarmed to him, but, eventually, the young quarterback prayed on the field with other players from both teams and trotted off to the locker room, head up.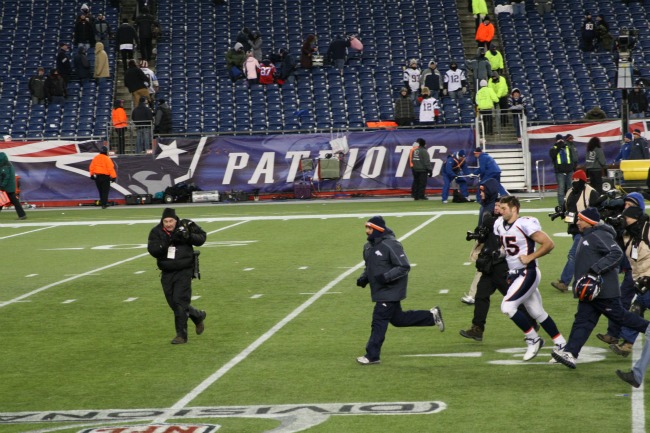 "That I pray before games, during games, after games is regardless whether, you know, I win, whether I lose, whether I'm the hero or the goat; that it doesn't matter; that I still honor the Lord and give him the glory, because he's deserving of it," said Tebow after the game.
"Just like my effort shouldn't change, neither should that, and so that's how I try to approach it. And you know, sometimes even in a loss you can honor him more."
 
Register correspondent Justin Bell writes from the Boston area and
attended the Jan. 14 Broncos/Patriots game in Foxborough, Massachusetts, where he took the action photo of Tebow above.