Taiwan's Catholic Church: Quest for National Identity
NEWS ANALYSIS: The People's Republic of China casts a long shadow on its independent neighbor to the south.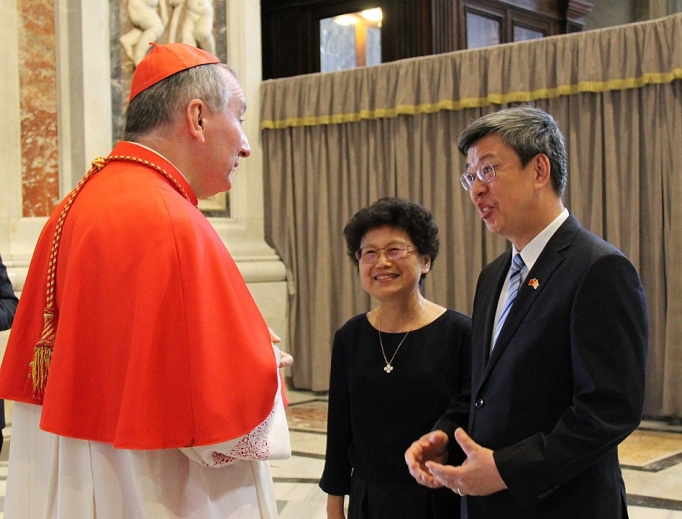 In 1949, former Chinese President Chiang Kai-shek, having lost a civil war to Mao Zedong, retreated to the island of Taiwan, given to him four years earlier by the Allies that defeated its Japanese occupiers. One million people and 800,000 troops came, too. Among them in the exodus were many from the Catholic Church, under fire from the Communist Party.
When it arrived, the Church ushered in instant growth: Between 1950 and 1960, the Catholic population expanded from 5,000 to 200,000. The priesthood exploded from 40 to 500, according to a 1960 Time magazine article featuring Archbishop Paul Yu Pin of Nanking, China.
About half of the religious were, like Archbishop Yu Pin, native Chinese who hoped to return to their homeland. The other half was composed of men and women religious from around the world, most praying for a short stay, too.
The impact of these dedicated religious is still felt across the island, approximately the size of Maryland. They have ministered to new communities, protected local language, established schools and built bridges to the Church in China.
But the People's Republic of China casts a long shadow. Politics, family relations and Church priorities are all impacted by the question: How will relations between the two Chinas evolve?
The current government assumes de facto independence, yet China still sees Taiwan as a rogue province and implements overt policies to bring it under its control.
There is a game of tug-of-war on the island between integration and independence, which impacts debate in the public sphere at every level. The Holy See, the only European state that recognizes Taiwan diplomatically, is also involved.
Meanwhile, the local Church tries to hold its own. For a mix of reasons, it has not grown. Membership hovers under 300,000, despite a population that has tripled since 1950 to 23.6 million.
Divisions
The Catholic Church was already present in Taiwan before its postwar drama.
Dominican missionaries from Spain established a presence in 1626, but it wasn't until 1859 that Dominicans from the Philippines settled on the island, evangelizing in two communities: indigenous, aboriginal people living on the mountainous eastern coast and among immigrants who arrived from the 17th to the 19th centuries, mainly from two Chinese provinces across the Taiwan Strait, Fujian and Guangdong.
To this day, the Catholic Church seems fractured along lines related to the history of immigration. The Catholic faithful are divided, roughly one-third indigenous people, one-third postwar mainlanders and one-third Taiwanese.
"So many clergy came with the Kuomintang [Nationalist Party, KMT, led by Chiang Kai-shek], that the Church was seen as being in the KMT's pocket, and that affected evangelization," one priest explained.
The KMT imposed military rule in Taiwan, especially oppressing the majority Taiwanese population, who were arbitrarily detained, tried and even executed if suspected of challenging the KMT during the "White Terror." Recently, Taiwan passed legislation to erase all Chiang Kai-shek symbols.
"When I got to Taiwan in 1967, there was this incredible tension on the island based on martial law, a tension between the Taiwanese and the mainlanders," remembers Michael Fonte, director of the Taiwan Democratic Progressive Party (DPP) Mission in Washington D.C., representing the country's governing party. He is a former Maryknoll priest.
By some accounts, the Catholic Church was considered untouchable by the dictatorship because it has international connections and financial independence. At the same time, the hierarchy was careful not to upset the government in order to protect its autonomy (thus, avoiding politics entirely), according to priests who lived through it.
Chiang Kai-shek — unpopular in Taiwan today — served as president until he died in 1975; his son was president from 1978 to 1986. The country gradually moved from authoritarian to democratic rule through a series of legislative reforms in the 1980s and 1990s.
The Church was slow to shift from an international to local profile. In 1985, for example, when St. John Paul II appointed the first Taiwanese bishop in the Church's history, only 50 Catholic priests were Taiwanese or aboriginal people. At that time, 324 priests were Chinese, and 386 priests were foreign-born.
Today, five out of seven bishops are native Taiwanese, including Taipei Archbishop John Hung Shan Chuan.
Aborigines
Among the country's seven dioceses, the highest concentration of Catholics, 9%, live in beautiful Hualien, on the Pacific coast, where most Taiwanese aboriginal people dwell.
The Bethlehem Mission Society (SMB) is credited with cultivating souls in this remote region. In 1953, SMB priests relocated to Hualien from China's far northeast, in Qiqihar, on the border with Russia.
In all, 36 SMB priests lived among the aboriginal people, composed of 14 ethnic groups, each with its own oral language, tradition and history. They founded vocational schools and a hospital. Some missioners lived in villages high in the mountains, where the mist dissipated only a few days each year.
Bethlehem fathers translated the New Testament into native languages close to extinction — even when, under martial law, it was illegal for education to be delivered in any language except Mandarin.
And they formed 38 priests, including the first aboriginal Taiwanese bishop, Msgr. John Baptist Tseng Chien-Tsi, ordained in 1998, who retired last year.
"Every project had to become self-sufficient and not dependent on external aid; each parish had to be entrusted to the priests of the local diocesan clergy," explained Swiss missioner Father Gottfried Vonwyl to AsiaNews.it, and SMB successfully replaced itself in terms of local vocations. Jesuit and Divine Word missioners also worked with indigenous people.
Language as a Political Act
The Maryknoll Society sent its first missioners to China in 1918. Some 30 years later, Maryknoll religious accompanied the exodus from China to Taiwan.
New missioners arrived on the island from the U.S. in the 1950s and 1960s, assigned to work primarily with the Taiwanese people, learning their language, as well as the Hakka dialect, and even opening a school for other priests to learn these forbidden tongues, too.
Today, 17 foreign-born priests and sisters study local languages there.
"For the Maryknollers, to be teaching Taiwanese was itself a political act," explained Fonte. "The Chinese imposed this common language, Mandarin, and the Taiwanese could get fined, or worse, for not speaking it."
In 1974, Maryknollers founded Friendship House in downtown Taipei to serve Catholics drawn to the city for work.
As a result of aggressive trade policies and liberated markets, Taiwan's economy boomed in the late 1970s and 1980s, especially in computer electronics, despite exclusion from the United Nations system in 1971, at China's behest.
By 1986, the world's largest number of computer terminals, circuit boards, monitors and electronic calculators were produced on the island.
"In one generation, Taiwan has accomplished what it took 100 years to do in the U.S.," Maryknoll Father Al Doyle, 80, who has served the Taiwanese since 1964, told the Register.
Friendship House, directed by Father Doyle, continues to provide an array of programming, including catechesis, to Taiwanese Catholics.
According to Tosca Ying, a full-time Catholic evangelizer who teaches a class at Friendship House, most of the young adults in her class grew up with no religious practice. She said the archbishop and Holy See's delegate together financed training for evangelizers about 20 years ago, when they realized the number of faithful had sunk to about 0.5% in Taipei, the capital.
Today, she said she is most successful when she focuses on "God's love, not just religion. The Church is God's love, and Jesus came to help us understand the truth."
Among the texts Ying uses are "Pope Francis' homilies. We translate them. He is very helpful for evangelizing."
Love Cana
One of Friendship House's most unique ministries aims to help young Taiwanese Catholics find a spouse of the same faith.
Trips, seminars, catechesis, Theology on Tap and talent-sharing are among the many activities launched from this urban sanctuary. Most unusual, Friendship House operates a Catholic dating site, "Love Cana."
"Here's the real problem when Catholics are a small minority: 80% of Catholics in Taiwan marry a non-Catholic, and most drop out of the Church. This is a crisis," explained Father Doyle. "So we created the Cana project in 2014 to bring Catholics together."
It's not a random internet platform: People are carefully screened before being admitted to the website. Then they are free to communicate with each other, and, more important, they are invited to events and workshops at Friendship House designed to deepen relationships — including four-hour speed-dating sessions on Sunday afternoons.
More than 550 Catholics are currently engaged on Love Cana, with some 20 couples in serious relationships.  
"A lot of people are scared to get married," said Archbishop John Hung Shan-chuan, the first Taiwanese archbishop of Taipei, who was ordained by Pope Emeritus Benedict XVI.
"Catholic families are at least as important as priests," declared Father Doyle. "If we don't have Catholic families, there's no need for a clergy!" 
Fu Jen University
Due west of Taipei, in New Taipei City, stands the fruit of work by the Society of Jesus and Society of the Divine Word in collaboration with the Holy See (and extensive funding from Boston and German Catholics): Fu Jen Catholic University.
Founded in Beijing in 1925 and closed by Chinese communists in 1950, the university reopened in Taiwan in 1961 with an intentionally strong emphasis on business and the sciences, to contribute to national and regional development.
Today, Fu Jen Catholic University is a prestigious institution with international partnerships and more than 25,000 students. Next door, the Taiwan Catholic Regional Seminary educates priests from all over East Asia, including China.
Fu Jen still reports directly to the Holy See's Congregation of Catholic Education. The Holy See's chargé d'affaires is an active participant in board meetings. (Although the Vatican and Taiwan have diplomatic relations, the apostolic nuncio office has been vacant since 1971, in deference to China.)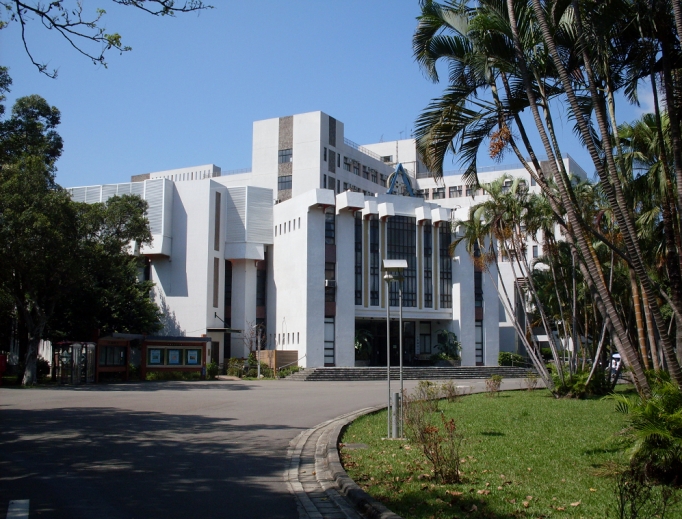 First Catholic VP
Fu Jen Vice President Michael Lee confirmed the school has benefited from close connections to Rome and the Jesuits in expanding its international profile — and changing his own life.   
"As an undergraduate here, in business administration, I had a professor, a Jesuit, who personally came to my house to tell my parents it was important for me to study abroad," said Lee, who earned a Ph.D. from the University of Texas and returned home.
The professor traces his Catholic ancestry back to his maternal grandmother, who converted while the Qing dynasty was still in power. Both of Lee's parents arrived on the island in 1949.
Regarding the central political question debated in Taiwan, Lee said his family "doesn't want to see Taiwan become independent because all our ancestors are there [in China]!"
Fu Jen continues to grow. It opened an office in Beijing in 2011.
And three months ago, a teaching hospital was inaugurated to enhance the medical school in New Taipei City. Cardinal Robert Sarah, the prefect of the Congregation for Divine Worship and the Discipline of the Sacraments, cut the ribbon together with Taiwan's vice president, Chen Chien-jen, a renowned epidemiologist, Fu Jen University trustee and former professor and devout Catholic.
"He goes to Mass every morning," confirms DPP adviser Fonte. "He said he and his wife had to pray a very long time before he agreed to run for vice president [joining President Tsai Ing-wen's ticket in 2016.] Finally, he decided it was his duty as a good Taiwanese and good Catholic" to offer himself for service.
Editor's Note: This article is part of a series on the state of the Catholic Church in Korea (here and here), Taiwan and Hong Kong.
Senior Register correspondent Victor Gaetan is an
award-winning international
correspondent and a
contributor to Foreign Affairs magazine,
the Washington Examiner.