​Indian Prime Minister Attacks Archbishop Over Pastoral Letter on State Election
In the letter marking the Dec. 14 election in the state of Gujarat, Archbishop Thomas Macwan warned against the threat posed by Hindu 'nationalist forces.'
NEW DELHI — As Gujarat state in western India concludes one of the most-watched state elections in Indian history Dec. 14, Christians and activists have denounced criticism Prime Minister Narendra Modi directed against Archbishop Thomas Macwan of Gandhinagar.
In a pastoral letter released Nov. 21, Archbishop Macwan, who is the head of Gujarat's minuscule Catholic Church, had warned that "nationalist forces are on the verge of taking over the country." And he called for local Catholic churches to organize prayer services to help elect candidates "who would remain faithful to our Indian Constitution and respect every human being without any discrimination."
Without taking naming Archbishop Macwan directly, Prime Minister Modi responded Dec. 4: "I am shocked that a religious person has issued a (religious edict) to kick out rashtra-premis (nationalists)."
Modi is the leader of the Hindu nationalist Bharatiya Janata Party (BJP), which currently holds power both nationally in India and in the state of Gujarat.
Along with this public statement at an election rally, Modi continued his criticism of Archbishop Macwan on Twitter saying: "I was surprised to see a man associated with spirituality issue a diktat to remove nationalist forces from power."
"We are not surprised that the prime minister made such a statement. This shows his true nature," John Dayal, one of the more outspoken Catholic leaders in the country, told the Register Dec. 13.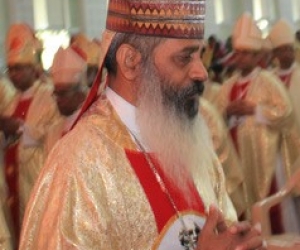 The Pastoral Letter
In his Nov. 21 letter, Archbishop Macwan decried attacks that he said occur continually against Christians and other minority groups.
"The secular and democratic fabric of our country is at stake. Human rights are being violated. The constitutional rights are being trampled. Not a single day goes without an attack on our churches, faithful or institutions. There is a growing sense of insecurity among the minorities ... poor and so on," Archbishop Macwan said in the pastoral letter regarding the state election.
The archbishop also asserted that an attempt to "generate fear" among voters, to "divide people on the basis of caste and creed," was being made, and urged Catholics to pray to elect leaders who will "remain faithful to the Indian Constitution" so that the country can be "saved from nationalist forces."
The state Election Commission Nov. 25 served a notice on Archbishop Macwan, who heads the 160,000 Catholics among the 66 million inhabitants of the state, asking why his appeal should not be viewed as a violation of the election's Model Code of Conduct.
The notice was issued after Hindu nationalist groups demanded the arrest of the archbishop for his pastoral letter, but Archbishop Macwan told the Register Dec. 13 that "the issue was over when the Election Commission accepted my explanation," delivered Nov. 27. "I have nothing more to say on this," he added.
Dayal said that "it is Prime Minister Modi who tried it rake it up a week later with remarks to make headlines. He goes on targeting anyone in his bid to polarize the voters" on religious lines.
Mobilizing Hindu Voters
Jesuit Father Lancy Lobo of Vadodra in Gujarat told the Register, "A prominent Hindu leader here asked people to vote for BJP." He added that the prime minister also attended a religious discourse of Morari Bapu, a popular Hindu kathakaar (bard) ofGujarat, whose sermons favor BJP.
Father Lobo said, "That is acceptable for Modi."
But when leaders of religious minorities share their own election concerns, Father Lobo added, they are asked to "keep quiet. Even prayers for humane leaders are questioned."
Martin Macwan, a leading dalit (lower-caste) activist in Gujarat told the Register: "He will do anything to win the election. That is Prime Minister Modi."
"This is for the first time a bishop is being targeted in election in Gujarat's history," said Macwan, a nonpracticing Catholic who is not related to Archbishop Macwan. The archbishop's pastoral letter, he said, "only reflected the overwhelming dissatisfaction in society about the BJP rule."
Macwan noted that 22 years of state rule under the BJP — with Modi himself serving as Gujarat's chief minister for more than 13 years until he led the Hindu nationalists to power in India's 2014 national elections — has made the party "unpopular" with many sectors of society, including the oppressed dalits whom he serves with his Navsarjan (New Creation) organization.
Modi sparked strident criticism by Manmohan Singh, Modi's predecessor as prime minister for a decade, Dec. 11 when Singh attacked Modi for setting "dangerous precedents by denigrating the office of the prime minister."
"Fearing imminent defeat in Gujarat, the desperation of prime minister to hurl every abuse and latch on every straw is palpable," Singh said in a statement released after Modi accused the opposition Congress Party of collaborating with Pakistan to defeat the BJP.
Some BJP supporters have similarly claimed that the Vatican is working to undermine Hindu nationalists.
"I was shocked when BJP spokespersons tried to drag even the Vatican into the electoral controversies in Gujarat, accusing the archbishop of Gandhinagar of having written his pastoral letter at the behest of the Vatican," Dayal said.
Such anti-Vatican claims are not new for Hindu nationalists, Dayal added, noting they "sharply attacked Pope John Paul II for launching Ecclesia in Asia in New Delhi," referencing John Paul's 1999 apostolic exhortation regarding the mission of the Church in Asia. "They continue to characterize it as a call to convert India to Christianity."
Papal Visit?
Dayal also targeted a claim he said Modi had made of "rescuing Christian priests, nurses and other Indians from strife-stricken countries."
"If the Modi government had been so much concerned about the Christians, what prevented it from inviting the Pope to the country?" he asked.
During his return flight at the end of his Nov. 26-Dec. 2 visit to neighboring Burma, also known as Myanmar, and Bangladesh, Pope Francis told George Kallivayalil, correspondent of the Indian Catholic daily newspaper Deepika, that "The first plan was to go to India and Bangladesh, but then the process to go to India was delayed and the time was pushing so I chose these two countries: Bangladesh and next door Myanmar."
Commenting further about the possibility of visiting India, the Pope added, "I hope to do it in 2018 if I'm alive!"
When the Register this week asked Alphons Kannanthanam, a Catholic and former bureaucrat who in September was made the first Christian cabinet minister in Modi's national government, why the government has declined to extend an invitation to Pope Francis despite repeated requests by Indian Church leaders, he shied away from a direct answer.
"He [the Pope] is coming. The prime minister has said in principle he wants the Pope to come," Kannanthanam replied Dec. 12 during a Christmas celebration organized by the Catholic Bishops Conference of India (CBCI) in New Delhi.
Asked specifically if this meant the Pope would visit in 2018, Kannanthanam said, "I can't say."
Cardinal Baselios Cleemis, the CBCI's president, told the Register at the Dec. 12 event, "We have been repeatedly requesting the government to send invitation to the Pope."
Added Cardinal Cleemis, "We will continue to do that."
Register correspondent Anto Akkara is based in Bangalore, India.