Catholic Churches Begin Recovery From Natural Disasters
Many churches hit hard by the recent hurricanes and major earthquake have been repaired and are open. Many more have a long way to go.
A quick succession of hurricanes and a major earthquake from mid-August through September destroyed lives, homes, workplaces, supermarkets and infrastructure in Texas, Florida, Caribbean islands — most notably Puerto Rico — and Mexico.
According to the National Weather Service, Hurricane Harvey, which took place Aug. 17-Sept. 3, is the wettest tropical storm on record in the United States. It was followed by Irma (Aug. 30-Sept. 16), Jose (Sept. 5-22) and Maria (Sept. 16-30). In the middle of that was a 7.1-magnitude earthquake that struck central Mexico Sept. 19. At last count, the loss of life was in the hundreds.
Within this destructive wave, these natural disasters also damaged scores of Catholic churches, which serve as spiritual and community focal points for hundreds of thousands of people.
Galveston-Houston
"When I went into our main church building, I was heartbroken," said Father Norbert Maduzia of Spring, Texas, which is outside of Houston. His parish, St. Ignatius Loyola, had major flooding during Hurricane Harvey in all five of its buildings and garage.
"I know these are just 'things' that were damaged: furniture, carpeting, walls. But they symbolize people and events that happened here. I see the people who usually sit in the pews," he said, while looking at the damage.
These people can't sit in the pews anymore, because all the pews in St. Ignatius Loyola had to be thrown out due to water damage.
After Hurricane Harvey, it was discovered that 68 parishes, schools and archdiocesan locations within the Archdiocese of Galveston-Houston had sustained damage. Of these, four parishes sustained catastrophic damage, with several feet of flooding within each of their buildings. Two of those parishes had parish schools whose students and staff had to relocate to nearby Catholic schools.
Now, all parishes in Galveston and Houston are currently celebrating Sunday Mass again — even if it means renting a hall in town to do it.
According to the National Weather Service, the hurricane at its height dumped more than 40 inches of rain on eastern Texas over four days, causing severe flooding throughout. In the churches of Galveston-Houston, that meant that everything needed to be removed.
"Dry walls need to be cut out in case of mold. Cloths needs to be laundered. Carpeting needs to go. Some pews might be saved — depends on the damage. But kneelers need to go because of padding," said Jonah Dycus, head of communications for the Archdiocese of Galveston-Houston.
"After everything is taken out, what's left needs to be sterilized and sanitized with a spray which uses bleach and ammonia," said Father Maduzia. "During the flood, the buildings smelled like a dumpster. Now that we sprayed, the buildings smell so much better."
The flood destroyed all the pews in Father Maduzia's parish, plus two organs and all of the chairs. Fortunately, the tabernacle and the Blessed Sacrament were not affected. Though the floodwaters stayed in the building five days, Father Maduzia was able to retrieve the Blessed Sacrament on the third day.
Total restoration for St. Ignatius of Loyola parish will cost $6 million. Some of the money will come from insurance, as the archdiocese is self-insured.
"The rest of it … I have no idea where it will come from," the pastor said. "EWTN came and did a segment on our parish. We have been blessed because some people, total strangers, have been sending us donations just on the basis of that broadcast."
He said 100 families in his parish lost their homes.
Venice, Florida
Hurricane Irma affected the entire Diocese of Venice, Florida, with the greatest impacts in the southern part, near Naples. In total, there were 45 claims for building damage.
"We had school windows broken and roofing issues. We have also had water intrusion in buildings and water leaks in roof and walls," said Bo Nepip, building coordinator for the Diocese of Venice.
One parish, St. Elizabeth Ann Seton in Naples, had its roof ripped off.
"I look at the poor souls in Puerto Rico. All we had was one roof blown off. I can only imagine if every church had their roof blown off. It is hard to fathom. The good Lord was really looking over us," said Nepip.
Out of the 10 counties incorporated in the diocese — an area of 10,000 square miles — seven were affected.
"We feel very blessed," said Peter Routsis-Arroyo, CEO of Catholic Charities for the Diocese of Venice. "It could have been a lot worse. I think it was the power of prayer. We were praying a lot before the hurricane, and we are still praying now — for Puerto Rico."
Catholic Charities set up 12 disaster-recovery sites, which fed 75,000 people in the first two weeks after the storm. They are now moving into the next stage of recovery: helping people register for aid that they are eligible for, particularly from Federal Emergency Management Agency. They also set up six regional drop-off centers: where people could drop off food donations and medical supplies.
"This recovery process can take two to three years," said Routsis-Arroyo.
Miami
Hurricane Irma affected the entire Archdiocese of Miami, with roofing being blown off, water leaks, and tiles and debris everywhere. However, the worst damage was seen in Monroe County, which is where the Florida Keys are located.
"The worst was seen by St. Peter's Church on Big Pine Key, which was ground zero for Hurricane Irma," said David Prada, senior director for building and property for the Archdiocese of Miami. "They had 5 feet of flooding and still have no power."
San Pablo on Marathon Key had a rectory and office destroyed by the storm surge and Key West's Basilica Mary Star of the Sea lost roofing.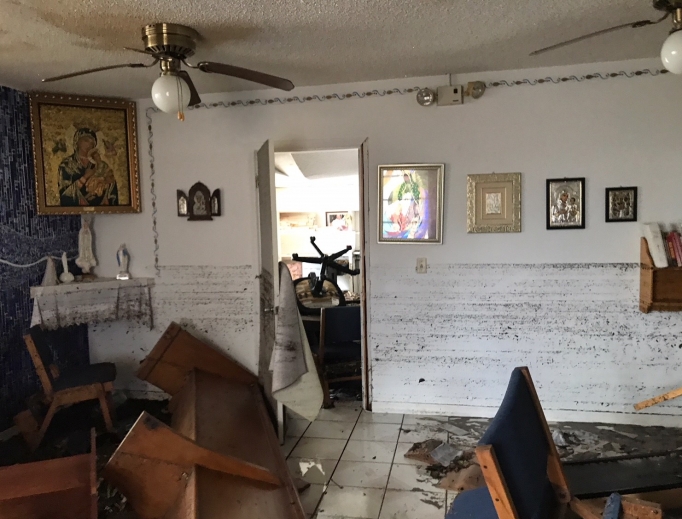 Puebla, Mexico
The 7.1 earthquake that hit central Mexico on Sept. 19 caused terrible destruction in the Archdiocese of Puebla, its epicenter.
At press time, it was determined that 223 churches had been damaged, several catastrophically in the Archdiocese of Puebla. The Archdiocese of Mexico City had 150 damaged churches.
"That day, there was a baptism taking place in the Church of St. Santiago in Atzala," said Georgina Cid Diaz, director of communications for the Archdiocese of Puebla.
"When the earthquake began, the priest — a young man of 30 named Father Nestor — immediately told everyone to evacuate. One of the people attending the baptism said, 'No, it's just a tremor. It will pass.' So no one moved. A few seconds later, the entire cupola of the church building collapsed and killed 12 family members, including the two-month-old baby."
Father Nestor desperately tried to remove pieces of debris and managed to save a few people, but they needed heavy machinery to do the rest.
"Father Nestor was so shaken up by what he witnessed that he is now getting psychological help," said Diaz.
Archbishop Victor Sanchez Espinosa of Puebla has asked all damaged churches to use outside atriums for Masses, if available. If not, the parishes need to find a dignified space indoors. In some parishes, the priests are sleeping in basketball courts along with parishioners who lost their houses.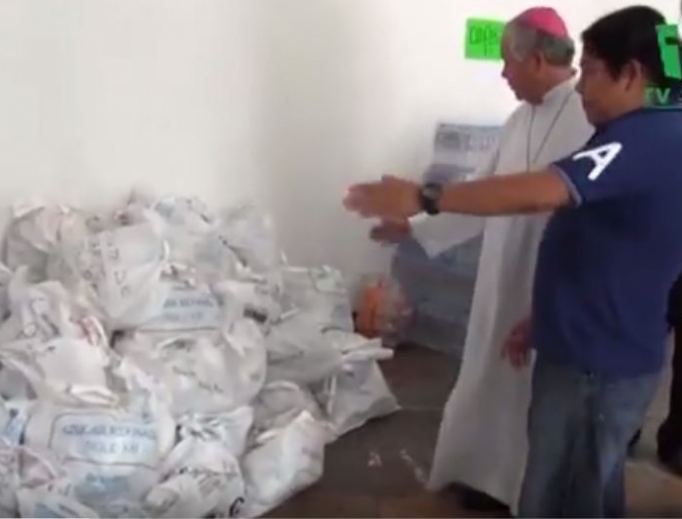 "The people of Puebla are calm but sad now. In places where the churches were damaged, the people are helping their pastors. For them, it is important that their place of God be fixed, even before their own homes are fixed. People feel a great solidarity and unity," said Diaz.
Some parishes in Puebla that were not affected by the earthquake decided to become "godfathers" to damaged parishes — with parishioners working to help them rebuild.
"It has been really beautiful," said Diaz.
"It has been interesting. We have one hand taking care of our own business and the other hand helping others in need," said Father Maduzia of Texas. "It's like Christ extending both arms and drawing us into his heart."
Register correspondent Sabrina Arena Ferrisi writes from New York.