Remembering Msgr. Paul Lenz (1925-2017)
Msgr. Paul Lenz, a priest, missionary, vice postulator for the cause of St. Kateri Tekakwitha and head of the Black and Indian Mission Office in Washington, D.C., for 31 years, died May 14.
He was 91 and had been a priest for nearly seven decades.
As national director of the Black and Indian Mission Office, the Bureau of Catholic Indian Missions and the Catholic Negro-American Mission Board, Msgr. Lenz built the offices into model institutions for evangelization and pastoral care of the Native Americans and African-Americans across the country.
He was also a longtime and respected member of the board of trustees of The Catholic University of America in Washington, D.C., as well as Xavier University of Louisiana, and was a member of several other trustee or regent boards, including for St. Vincent Seminary and the Basilica of the National Shrine of the Immaculate Conception in Washington.
Archbishop Charles Chaput of Philadelphia, a longtime friend of Msgr. Lenz, recalled to the Register, "Msgr. Lenz was a wonderful man who had the interest of Native American and African-American Catholics at the center of his life. I've met few people so focused on their life and ministry in such a consistent and persistent way. He was also a very good friend personally, and I will miss him very much. When the history of the Church among Native Americans and African-Americans is written, Msgr. Paul Lenz will play a large and important role in that history."
A Missionary Heart
Paul Lenz was born on Dec. 15, 1925, the second of six sons of Raymond and Aimee Lenz, in Gallitzin, Pennsylvania. He attended the public school there and then Altoona Catholic High School, graduating in 1943 and going straight to St. Vincent College in Latrobe, Pennsylvania.
He earned a bachelor of arts degree in philosophy in 1946, by which time he was discerning the call to the priesthood. While he desired to serve as a missionary with the Maryknoll Society, he chose instead to become a diocesan priest to be closer to his mother, as his father had died in 1944.
He underwent his formation at St. Vincent's Seminary in Latrobe with additional graduate studies at Penn State University. In 1983, he was awarded an honorary degree, doctor of divinity, by St. Vincent's as a distinguished and much-loved alumnus.
Ordained a priest in 1949, he held a variety of posts in parishes across the Diocese of Altoona-Johnstown until 1953, when he was named curator of the Prince Gallitzin Chapel House in Loretto (the burial place of Servant of God Father Demetrius Gallitzin) and diocesan director of the Society for the Propagation of the Faith.
He also taught theology at Mount Aloysius College in Cresson, Pennsylvania, and St. Francis College in Loretto.
In addition, he was assistant editor of the diocesan newspaper, The Catholic Register, for five years.
Msgr. Lenz, however, never lost his yearning to serve in the missions, and that longing was reignited in 1970, when he was invited by Bishop Jerome Pechillo of Paraguay to establish a mission among the Guarani Indians. He learned Spanish fluently and mastered enough Guarani to say Mass and hear confessions. The work was difficult in a very rugged region.
He spoke often of the perilous horse and jeep rides through the mountains, although the political situation in Paraguay was even more dangerous. The indigenous Guarani faced harassment from the forces of Paraguayan dictator Alfredo Stroessner, and Msgr. Lenz spoke out on their behalf. As a result, he and other American missionaries were arrested and spent a week in prison.
Returning to the United States in 1974, he served briefly back in the Altoona-Johnstown Diocese and then was asked by Cardinal John Krol of Philadelphia, a member of the board for the Black and Indian Mission Office, to become its national director.
Msgr. Lenz assumed the directorship July 5, 1976, and moved quickly to build up the annual parish collections, promote the Tekakwitha Conference to encourage evangelization, heighten the awareness of the bishops regarding the important work of the office and foster Native American vocations to the priesthood and religious life.
During his tenure, two Native American priests were appointed bishops: Bishop Donald Pelotte, an Abenaki, who became bishop of Gallup, New Mexico, in 1990, and Charles Chaput, a member of the Potawatomi Prairie Band, who was named bishop of Rapid City, South Dakota, in 1988. He subsequently was named archbishop of Denver in 1997 and then shepherd of Philadelphia in 2011.
Msgr. Lenz's immediate successor as national director, Father C. Wayne Paysse, noted to the Register, "It was always obvious to me of his love for the missions because of the way he spoke about it. He was always sharing many, many stories and experiences of his ministry in the African-American, Native American and Alaskan Native Missions. … His impact on the missions and mission schools will carry forward for many, many years to come."
St. Kateri Tekakwitha
In January 2007, Msgr. Lenz was given the title of "apostolic protonatory" by Pope Benedict XVI, one of the highest honors that a priest can receive, in recognition of his many years of priestly service. That same year, he stepped down as national director of the office of missions.
In 2009, on the Solemnity of the Immaculate Conception, he was given the annual "Patronal Medal" of the Basilica of the National Shrine of the Immaculate Conception and The Catholic University of America.
Even though he was officially retired as national director, he continued to work on what he saw as one of the most important tasks of his life: the cause of canonization for St. Kateri Tekakwitha.
Msgr. Lenz labored for nearly four decades to promote her cause, serving as a vital voice for Native Americans, calling and praying for the Mohawk maiden to be beatified and canonized. In 1980, Msgr. Lenz helped many Native Americans attend the beatification of Kateri in Rome and to meet with Pope St. John Paul II. He then remained steadfast in his labors in bringing the cause to its conclusion.
In 2005, he was named by the Holy See the vice postulator for Kateri's cause and was active in the investigation into the miracle that led to her canonization by Pope Benedict XVI at St. Peter's Basilica Oct. 21, 2012.
"As vice postulator," Father Paysse said, "he was always sending notes, making phone calls, visits and following up on leads. He was completely devoted to St. Kateri and prayed, prayed and prayed for her canonization."
Hundreds of Native Americans traveled to Rome for the event, and, despite failing health from Parkinson's disease, Msgr. Lenz was able to make the journey with them. He was one of the few priests to concelebrate the canonization Mass with Pope Benedict. And at the Mass of thanksgiving the next day in St. Peter's Basilica, Native American pilgrims thronged around Msgr. Lenz to give him tearful hugs and thanks for his unflagging love for them and for St. Kateri.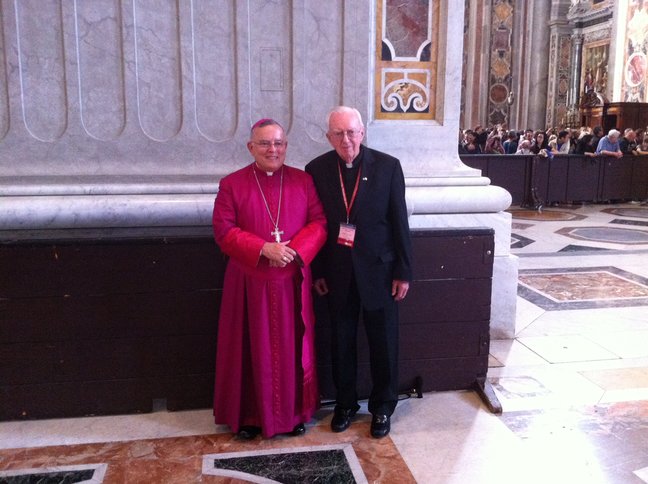 A Priestly First
Despite declining health, he remained an active priest and a much respected and beloved figure in Washington, and beyond, whose friendships extended across the political spectrum and every walk of life.
Among those friends were former Speaker of the House Newt Gingrich and his wife, Callista, the newly nominated U.S. ambassador to the Holy See.
"Msgr. Paul Lenz was a devout Christian and a remarkable man," they told the Register. "He was kind, caring and always more interested in others than himself. Over the years, we developed a genuine friendship with Msgr. Lenz. We will always appreciate and remember his support of our projects and the many prayers he offered for us. … His recent presence at Mass, even as his health was challenged, was inspirational. We will miss him dearly."
He died as he always lived, a simple priest who longed to bring others to Christ.
Father Paysse added, "Msgr. Lenz had a deep love for the priesthood of Jesus Christ, and he was always humbled to be a priest. His vocation was truly sacred, sacrificial and filled with prayer. His love for our Eucharistic Lord was inspiring when he offered Mass, preached or simply led a prayer. … Evangelization was at the heart of his priestly ministry, and his spirit for the missions was integrated in every fiber of his spirituality.
"He understood the great missionary undertakings of those before him and emulated their zeal, patience and perseverance. He served Almighty God, the Church, St. Kateri and all his sisters and brothers with integrity and love. May he rest in peace!"
Matthew E. Bunson is a Register senior editor and a senior contributor to EWTN News.
He was a friend of Msgr. Paul Lenz for nearly 40 years.