Register Radio - Jennifer Fulwiler and Gary Chartrand
This week on Register Radio, Dan Burke talks with Jennifer Fulwiler about her new book Something Other Than God and Jeanette De Melo discusses the documentary Messenger of the Truth with producer Gary Chartrand.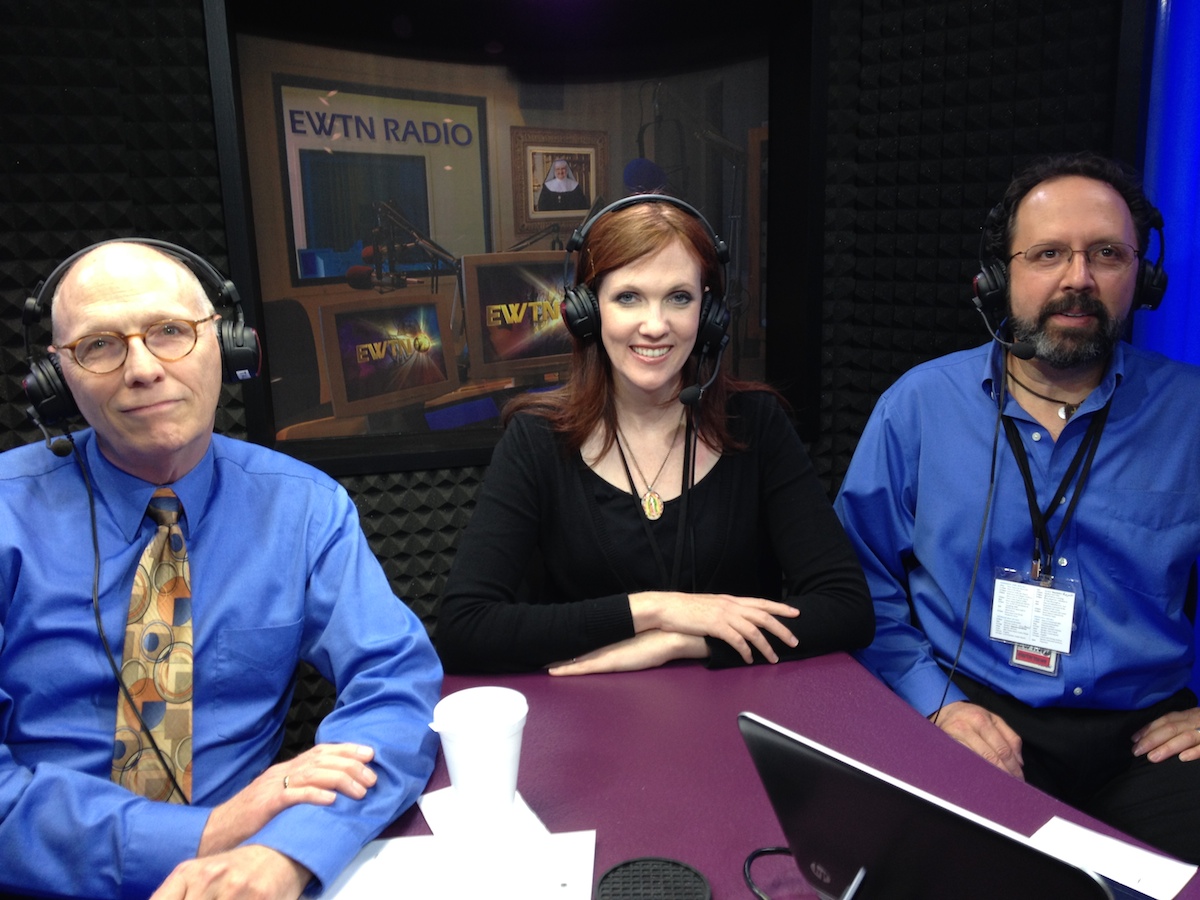 Jennifer Fulwiler and Something Other Than God
Jennifer Fulwiler is a programmer-turned-writer who chronicles her experiences of faith and family life on her popular blog, ConversionDiary.com. Just this week, her memoir, Something Other Than God, was released from Ignatius Press. Fulwiler's articles have appeared in the National Catholic Register, Our Sunday Visitor, Envoy and National Review Online. She has been a guest on Fox and Friends, Life on the Rock, and The Choices We Face, and she is producing a reality show called Minor Revisions. She and her husband, Joe, live in Austin, Texas, with their six young children.
"Every conversion starts with relationship," Fulwiler said, and credited her relationship with her husband as the relationship that started her conversion to Christianity. She found it shocking that not only did he believe in God, but in "that Jesus guy, too!" His belief is what piqued her interest in Christianity, even though he didn't pray or act on his belief, and shattered the stereotype she had that intelligent and smart people are atheists and that Christians are unreasonable.
"Marketers need to study Richard Dawkins and the late Christopher Hitchens and the rest of the New Atheists. I have never seen—never—better marketing or branding…they have branded atheism as being for smart people," Fulwiler said. "It is shocking how well they have done it." Fulwiler said she has seen it with young people: they're drawn to atheism because they want to be associated—or branded—with the intelligensia. 
After the birth of her first child, Fulwiler said she began to think through her atheistic beliefs and to question them. She began to no longer identify herself as an atheist because of the love that seemed to come from an external source.
The biggest thing to avoid when reaching out to atheists, Fulwiler said, " is to think that it's all about data and arguments." Though the atheists will tell you that they only believe what they believe based on reason and science and logic, "that's not true, and if you keep staying on that level and forget to show them Christ as much as you're offering proofs and evidence for Christ's existence, you're going to keep missing each other."
Fulwiler said she would have never admitted it as an atheist, but she was hungry to be loved and accepted. "None of my Christian friends would have guessed that about me, because I gave off a very hostile vibe," she said.
The next item to avoid when you're trying to help atheist or agnostic loved ones consider the faith, advises Fulwiler, is to "let go of the goal of converting them." What we should be asking ourselves is whether we are showing Christ to others. "We need to focus on making ourselves saints more than we overtly say 'How do I convert these stubborn people?'"
You can find Fulwiler's book, Something Other Than God, in the EWTN Religious Catalogue or by calling 800-854-6316.
Gary Chartrand and Messenger of the Truth
Gary Chartrand is a co-executive producer, along with his wife, Nancy, of Messenger of the Truth, a 90-minute feature documentary on Polish martyr and 21st century hero of human rights, Blessed Father Jerzy Popieluszko. 
He and Nancy were motivated to produce the documentary following a memorable 2010 trip to Poland with their parish priest, where they learned the story of Father Jerzy, who was martyred in 1984. Gary connected with filmmaker, Paul Hensler, who owned the rights to the book The Priest and the Policeman: The Courageous Life and Cruel Murder of Father Jerzy Popieluszko and together they produced the documentary Messenger of Truth, based on the book.
Cardinal Timothy called the documentary "a must-see documentary for anyone who is a lover of freedom and a defender of truth." 
Father Popieluszko was 37 years old when he was murdered by members of the Communist Party in 1984, said Chartrand. He was inspired by what Pope John Paul II said during his visit in 1979. His ministry started when he was snuck in to offer Mass to workers locked in a steel mill at the beginning of the Solidarity Movement. He became popular not only in Poland, but all throughout Eastern Europe, according to Chartrand
There is a lot of stock footage of the time when John Paul II visited Poland, as well as footage of the time when martial law was declared. The pope spoke of human dignity and justice through freedom, and Chartrand said that the pope's visit and support was the "grass tips" portion, while Father Jerzy was the "grass roots," connecting with the average person. He inspired people with his sermons about "how they should unify, they should be non-violent, keep their dignity, and continue on their path to freedom," according to Chartrand.
Chartrand's wife, Nancy, is Polish. The visit to Poland he took in 2010, and especially learning about Father Jerzy's work and life. In his comment to the priest friend who was on the trip with him, he asked why Father Jerzy wasn't better known. "Well, he's popular in Poland," his friend told him.
Chartrand came home, and about a year later, his priest friend called him, telling him that two people in Jacksonville, where he lived, had bought the rights to the book about Father Jerzy, with the intention of making a documentary. They were looking for financing, and that began Chartrand's work.
"For the last three or four years, I've lived this, along with my wife, and I've listened to the words of Father Jerzy," Chartrand said. They've compiled a book that will be coming out soon, Sermons, that has the words of Father Jerzy's sermons in it. "I think about some of the things we're challenged with today, in terms of religious liberty," Chartrand said, and quoted Father Jerzy with a powerful statement that applies to us now, in part including this: "Telling the truth with courage is a way leading directly to freedom, and to do this we must overcome fear. This fear makes us act against our conscience, and it is by means of conscience that we measure truth."
"If you think about some of the challenges that we have today in our own country about religious liberty and how it's being threatened, too many of us I think sort of accept the lie, if you will," Chartrand said.
Messenger of the Truth will be shown on public television stations throughout the United States and you can find out when and where via MessengerofTruth.com. You can also purchase the DVD through the website.
Listen to this week's show online or on your mp3 player.