Heroic Wartime Irish Priest Honored at the Vatican
Commemorative plaque unveiled to honor Msgr. Hugh O'Flaherty whose heroism was portrayed by Gregory Peck in the movie 'The Scarlet and the Black'.
An Irish priest who saved thousands of Allied soldiers and Jews in World War Two and whose heroism was turned into a Hollywood movie has finally been honored at the Vatican.
A plaque to honor Msgr. Hugh O'Flaherty, who was instrumental in helping to rescue and protect an estimated 6,000 vulnerable people in Rome during the war, was unveiled on Sunday at a ceremony in the Campo Santo Teutonico within the Vatican walls. Sunday also happened to be the 71st anniversary of Victory in Europe Day.
The event, which included a special Mass at the Campo Santo Teutonico — the burial place and college for mainly German-speaking members of the various religious institutions in Rome — was "extremely moving", said Nigel Baker, Britain's ambassador to the Holy See. "It was a very appropriate commemoration and it's good that finally there is a permanent memorial to him."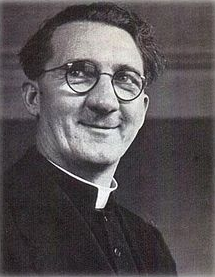 According to the book The Scarlet and the Black by J.P. Gallagher, Msgr. O'Flaherty's heroic life-saving efforts began when he toured Italian prisoner of war camps in the early years of World War II. His aim was to find out about prisoners who had been reported missing in action; once he found them alive, he notified their families through Vatican Radio.
After thousands of POWs were released following the fall of Mussolini in 1943, they were in danger of recapture by the Nazis when Germany subsequently occupied Italy. Remembering O'Flaherty's visits, some of the POWs managed to get to Rome and ask him for help. The Irish priest then recruited help from others including priests, spies, diplomats and even communists to create what became known as the "Rome Escape Line".
Partly under Msgr. O'Flaherty's coordination, he and his allies concealed an estimated 4,000 escapees, mainly Allied soldiers and Jews, in flats, farms and convents. He himself wore various disguises when venturing outside the Vatican walls, and escaped Nazi attempts to arrest him by seeking refuge in Vatican City. Lieutenant Colonel Herbert Kappler, head of Rome's Gestapo, ordered a white line to be painted on the edge of St. Peter's Square to signify the border between Vatican City and Italy, and threatened Msgr. O'Flaherty would be killed if he crossed it. He was also threatened with torture if he were ever captured.
At the time of Rome's liberation, the "Rome Escape Line" was protecting not only nearly 4,000 POW escapees from 25 countries, but also many Jews and others. After the war, Msgr. O'Flaherty frequently visited Kappler in prison whom he eventually received into the Church.
Around 200 people attended Sunday's unveiling including members of O'Flaherty's family and relatives of those who had worked with him on the "Rome Escape Line". They included three sons of British Major Sam Derry, a POW escapee from an Italian prison camp, who worked closely with Msgr. O'Flaherty in setting up and coordinating the rescue. Also in attendance were members of the arch confraternity of the Teutonicum where O'Flaherty had lived for 20 years, ambassadors from relevant countries such as Germany, the U.K., the United States, and Canada, and representatives of Italian families who had helped him protect these vulnerable individuals and groups. Pope Francis gave a message of greeting to members of the Hugh O'Flaherty Memoral Society during his Regina Caeli address on Sunday.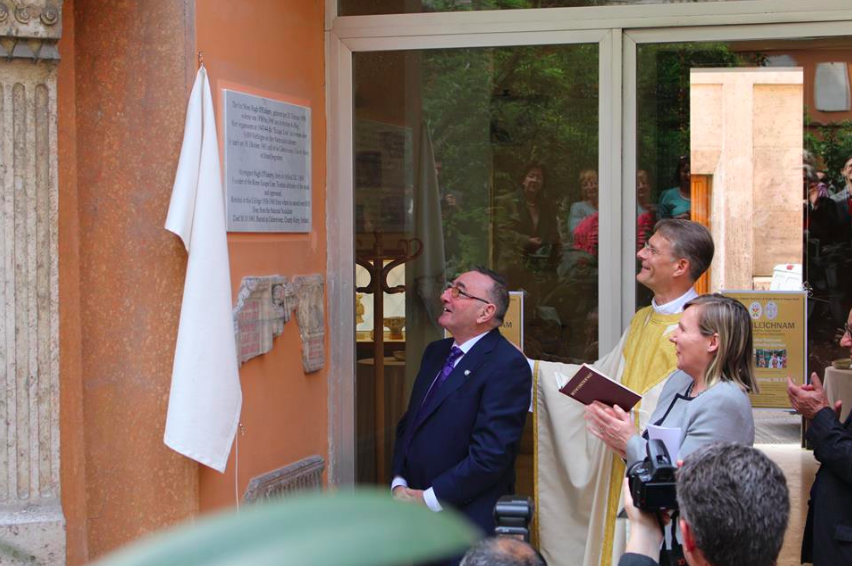 Msgr. O'Flaherty's nephew, also called Hugh, told Vatican Radio that his uncle was a very good humored and jovial character, interested primarily in the present. For this reason, he said his uncle hardly talked about what happened during the war, even when Lord Beaverbrook, the owner of the British newspaper The Express, then the most widely read newspaper in the world, wanted to do a feature on him. "Much to my chagrin, my uncle did not want to comment on it!," O'Flaherty recalled. "As I said, he lived very much in the present, and the past was the past."
Ambassador Baker told the Register it was a testament to how, even after his death, O'Flaherty's heroic humanitarian efforts were able to bring so many people together through his ability to work in an "entirely neutral way and by supporting people".
Two wreaths were laid, one by a representative of the Irish government, and the other by the U.K.s defense attaché to Italy, Colonel Lindsay MacDuff.
The plaque, which was funded by the Irish government, reads:
"Monsignor Hugh O'Flaherty, born in Ireland 28.2.1898. Founder of the Rome Escape Line. Tireless defender of the weak and oppressed. Resident at this College 1938-1960 from where he saved over 6000 lives from the National Socialists. Died 30.10.1963. Buried in Cahersiveen, County Kerry, Ireland."
Msgr. O'Flaherty's heroism was portrayed in the 1983 movie The Scarlet and the Black starring Gregory Peck as O'Flaherty, Christopher Plummer as Colonel Kappler, and Sir John Gielgud as Pope Pius XII.