A Conversation with Rio's Cardinal on the Pope, the Poor, Peace & Sports
With the one year anniversary of World Youth Day 2013 coming up in less than two weeks, its memory and mission lives on the city of Rio de Janeiro.
In almost perfect timing, I was invited to a special press opportunity this morning, commemorating the full reconstruction of Rio's famous Christ the Redeemer statue, after lighting destroyed several fingers and part of its head.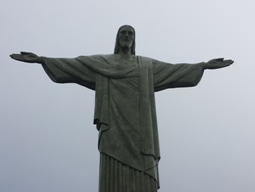 The statue, considered one of the New Seven Wonders of the World, is struck by lightning an average of six times each year, and needed nearly $1,000,000 worth of renovations. Sponsored by the international tire company Pirelli, the work took place from January to June, and included the installation of four cameras on Christ's head to take pictures of visitors and provide a live 24/7 view of the city "as Christ sees it."
Reconstruction was officially capped off July 10 with prayer, ribbon cutting and a ceremonial blessing by Cardinal Orani João Tempesta, the Archbishop of Rio de Janeiro, who Pope Francis named a cardinal in February.
Walking up Corcovado in the pouring rain with nearly 80 media members from Brazil and across the world, I found Cardinal Tempesta standing alone under Christ the Redeemer just before the ceremony. I took advantage of the opportunity for an exclusive one-on-one interview in Portuguese to get his thoughts on WYD's legacy and the lasting impact of Pope Francis' visit to Rio: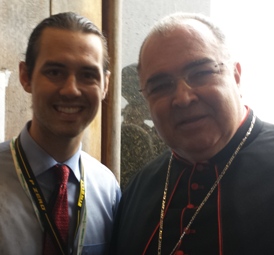 Regarding World Youth Day and Pope Francis' legacy in Rio, what are some of the lasting memories that were left here?
It's not just Pope Francis, but all of WYD that remains in Rio, in Brazil and around the world. He challenged Catholic youth to be leaders, and said their happiness has the power to change our world. His words and acts during World Youth Day continue and will always have an impact here. Not just as a memory, but a reminder of our responsibilities as Catholics.
Both you and Pope Francis are well known for reaching out to the poor and people most in need. How do you think the ministry of Pope Francis is especially beneficial for this demographic of the Church?
He's rightfully giving them preference and calling attention to important people: the poor, the persecuted, and world's refugees. And important issues too: promoting peace, being against war. He has done quite a bit of this. And it's not just in his words, but his actions, too.
Here in Rio, for example — he visited a favela and attended to the sick. Those were both personal choices he made because he is genuinely concerned with the poor and the sick. He wanted to act on his words as Holy Father, remembering that these are the Pope's people and that Christ is often most present in people in need.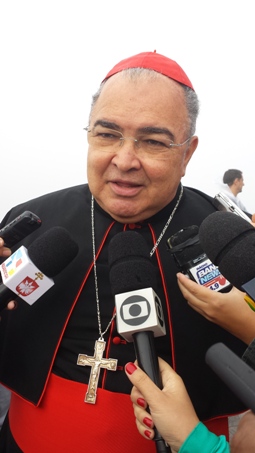 What are some of the greatest challenges for you as archbishop of Rio de Janeiro — Brazil's least Catholic state by percentage? Are any of these challenges improving or being made easier thanks to World Youth Day?
In the city of Rio de Janeiro, the archdiocese has a higher percentage of Catholics than in any other city in the state of Rio de Janeiro. Pope Francis' mission wasn't necessarily to increase the number of Catholics here, but to encourage people to foster lives of justice and peace. If someone has a calling to come back to the Church, they'll be very welcomed back. But the goal is to encourage peace, justice and fraternity so the Church is present in the world.
Are more people returning to the Church thanks to the events of World Youth Day?
We don't have official statistics on that yet. But sometimes people's involvement is very relative. We always have people saying that they want to participate in a parish event, help with evangelization, or contribute to a Church mission. But at the same time, they're often not practicing Catholics or don't specifically belong to a parish.
Last question: Between the 2014 World Cup and the upcoming Summer Olympics in 2016, do you think large international sporting events — though not specifically Catholic events — can benefit the Church here at all?
The archdiocese has a special sports ministry that works day to day with sports and promoting peace dialogue. With World Cup and Olympics, it's important for us to think both about living healthy lives and promoting fraternity. Peace and sports can go together because sports teach us to be united. In his message to the world before the World Cup, Pope Francis said nobody should be alone in sports or in life. On a bigger scale, for our world to be a better place, countries also need to be united.