4 Shrines for Saints' Relics in the U.S.
"The religious sense of the Christian people has always found expression in various forms of piety surrounding the Church's sacramental life, such as the veneration of relics…" (CCC 1674)
A relic is: (1) part of the body of a saint (a first-class relic), (2) an item, such as a piece of clothing, used by a saint (a second-class relic) or (3) an object touched to a first or second-class relic (a third-class relic). There are multiple examples in Scripture of the benefits of relics, such as when the bones of Elisha came in contact with a dead man and the man was raised to life (2 Kings 13:21) or when the Christians of Ephesus used handkerchiefs and cloths touched to the person of St. Paul and they became conduits of grace to heal the sick (Acts 19:12). While the healings came from God, the relics were his chosen means through which he acted. The fact that God chooses to use relics to work healing and miracles tells us that he wants to draw our attention to the saints as "models and intercessors" (Catechism of the Catholic Church, 828).
The United States is home to many beautiful shrines and churches that house relics. Here are four you may like to visit.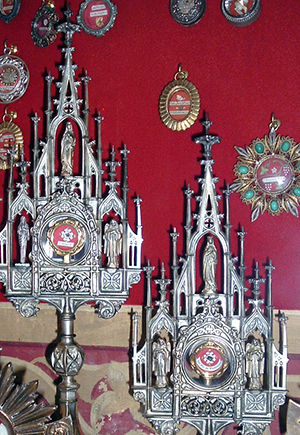 The Maria Stein Shrine of the Holy Relics (www.mariasteinshrine.org) in Maria Stein, Ohio, is home to 1,100 relics in 970 reliquaries representing 900 saints. It is one of the largest collections of its kind in the world. It is an active collection, as the shrine regularly makes requests for new relics from the Vatican. It is located in the Diocese of Cincinnati. 
The shrine was founded in 1875, when Father J.M. Gartner entrusted his collection of relics to the Sisters of the Precious Blood. The site includes two chapels built more than a century ago, and is manned by a small staff and many volunteers. One of the chapels holds many of the relics, and bears the inscription over its entryway in English and German: "Enter devoutly, O pilgrim, for no place is holier than this in the new continent."
As many as 400 people visit each month, including school groups, pilgrimages and tours. A variety of programs are offered to introduce visitors to the lives of the saints.
"We're caretakers of these relics," said Anne McGuire, the shrine's Director of Programs & Ministries. "Our relic chapel is a place where you can pray and remember that we're all called to be part of the Communion of Saints."
To be included in the collection relics must be first class (although a few are second class), sealed and authenticated. There are three major relic categories at the shrine. The first is the earliest saints, including relics of the Apostles, St. Stephen (the first martyr) and the relatives of Jesus. The second are more recent saints, such as Padre Pio, the Fatima children and Fr. Damien of Molokai. The third grouping includes well-known saints on the liturgical calendar, including Aloysius Gonzaga, St. Teresa of Avila, St. Anthony of Padua and St. Anne, the mother of Mary.
Additionally, there are relics of many popes, including John Paul II and Pius X. There are relics related to Christ, such as three pieces of the True Cross. And, there are remains of saints thrown to the lions in ancient Rome.
Among its more notable relics is the complete remains of St. Victoria, a third century martyr, originally enshrined in the catacombs in Rome. The body is not incorrupt, but covered in wax and clothed. The body is encased in glass, so visitors can come up and take a close look. The shrine is also home to the nearly complete remains of St. Concordia, another third century martyr.
McGuire believes that seeing relics up close makes the saints seem "more real and present to us" and are of great benefit to one's spiritual life.
She said, "They're intercessors in prayer, models of holiness and companions on our faith journey."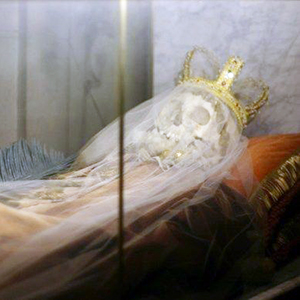 St. Martin of Tours Church (website) in Louisville, Kentucky is home to the skeletal remains of Saints Magnus and Bonosa who were martyred in the third or fourth century, and had been kept in glass sarcophagi in the church's two wooden side altars since 1902.
Fr. Paul Beach, St. Martin's pastor, said, "A child wants to touch something so he can better understand what it is. It is part of our human nature; we don't lose this desire when we grow up. Relics are important because they give us a tangible connection to real human beings who have given witness to our Faith." 
St. Magnus was a centurion and St. Bonosa a virgin who were martyred in the Coliseum (one account has Magnus fighting to save Bonosa's life) and buried in the catacombs. Their remains were later removed and kept in a convent in Agnani, an ancient town near Rome, but returned to Rome when government forced the convent to close in the 19th century. Pope Leo XIII gave the relics over to the care of St. Martin's 110 years ago, at the request of its pastor at the time, Msgr. Francis Zabler.
St. Martin of Tours is one of the country's most beautiful historic, traditional churches. It was founded in downtown Louisville in 1853, and served a German immigrant community. For nearly a century, homilies were preached in German, confessions were heard in German and many of its memorials in its stained-glass windows are in German. It was staffed for much of this time by Franciscan priests.
Interior features include a magnificent marble center altar, colorful stained-glass windows and traditional, representational statues. But the feature everyone goes away talking about, said Fr. Beach, is its relics of St. Magnus and St. Bonosa. Rather than being a few bone fragments, they are significant skeletal remains. The bones are wrapped in cotton, formed in the shape of a human figure with their skulls exposed and rest covered with robes and palm fronds (to indicate that they're martyrs). For more than a century visitors to St. Martin's have been inspired by their story and knelt before them to pray.
Magnus' skeleton is about 45 percent complete; the skull is missing its mandible (jawbone). He was a male, age 45-50. His ethnicity was Caucasian, with perhaps some Mediterranean/African ancestry.
Bonosa's skeleton is 95 percent complete, only missing a few fingers and toes. She was 100 percent Caucasian, female, right-handed and 24 years of age. Additionally, Bonosa has stress features on her knees, indicating that she spent much time squatting. It could be because of work, such as doing laundry, or because she spent much time on her knees praying.
As funds are raised, Fr. Beach and the parish hope to do a facial reconstruction of Magnus and Bonosa. He believes the pair are a helpful tool in reinvigorating the faith of visitors. He said, "We can talk about the martyrs of the Coliseum, but the relics of St. Magnus and St. Bonosa put you literally face-to-face with Catholics who were there and paid the ultimate price for their Faith. It's very powerful."
St. Anthony's Chapel in Pittsburg (www.saintanthonyschapel.org) boasts an even larger collection of 5,000 relics. The chapel was originally built in two phases by Fr. Suitbert Mollinger in 1880 and 1892, who used his own family's money to build the structure and begin collecting relics in Europe. Fr. Mollinger died in 1892, two days after the opening of the second section of the chapel.
Today, it is part of Most Holy Name of Jesus Parish and is in the Diocese of Pittsburgh. The archway at the entry of the chapel bears the inscription in Latin: "The bodies of the saints rest here in peace."
It draws as many as 200 visitors weekly. Special events, such as the feast day of its namesake, St. Anthony of Padua, draw even larger crowds. On Tuesdays, those attending Mass are blessed with a relic of St. Anthony, said Deacon Greg Jelinek, who serves at the parish.
"Our Catholic tradition is rooted in the holiness and goodness of the body, which extends to the remains of the saints," said Deacon Jelinek. "They achieved great holiness in their lives, and it doesn't cease with their death."
Deacon Jelinek was an altar boy at the parish more than 40 years ago, and served as a tour guide there in high school and college. He said, "I grew up going to St. Anthony's Chapel, and I've always been fascinated with it. It's part of the fabric of my life. I feel a great closeness to it and the people who visit."
The collection is random, he said, containing mostly first-class relics. Notable relics include those of St. Demetrius, a fourth century martyr, whose bones have been carefully wrapped in silk. The skull of St. Macarius of Egypt, a fourth century monk, is kept behind the altar. Relics of St. Anthony of Padua include one of his teeth. There are also remains of 20th century saints, such as Padre Pio and Maria Goretti.
There many relics related to Christ's passion and death, including 14 pieces of the True Cross, rocks from the garden of Gethsemane and the column on which Christ was scourged, pieces of the reed and sponge with which he was given a drink of sour wine and a thorn from the Crown of Thorns.
For Deacon Jelinek the relics are a "physical link which binds Christians from across the centuries." He said, "When I'm in the chapel, I feel I'm in the physical presence of a great and glorious Communion of Saints."
St. John Cantius Church in Chicago (www.cantius.org) is another historic church that is home to about 1,800 relics. The relics were donated to the church from a variety of sources, said Fr. Frank Phillips, pastor, but mostly from priests "as they knew we would honor them and use them for the devotion of the faithful." Most of the relics are secured in a vault, with a small portion on public display.
Fr. Phillips believes a highlight of the collection is the relics of the saints from the Lenten Station Churches of Rome. A custom that dates back to the fourth century, pilgrims to Rome could journey to Rome and visit churches honoring various saints. The Bishop of Rome, the Holy Father, would come celebrate Mass for them in the churches. The practice fell out of use when the papacy temporarily moved to Avignon in 1309, but was revived by Popes Leo XIII and John XXIII. It is a popular tradition among seminarians at North American College in Rome, Father said.
St. John Cantius is known for its celebration of the traditional liturgy, and the Station Churches, Fr. Phillips said, are listed each day of Lent in the traditional missal. Fr. Phillips has composed a daily meditation booklet on the Station Church saints for devotional use by the faithful.
Catholics should value relics, Fr. Phillips said, because "They are a connection with our past, and are reminders to us of their heroic lives and how we must imitate them."