Ohio's Hidden Catholic Gem
Walsh University Embraces Catholic Identity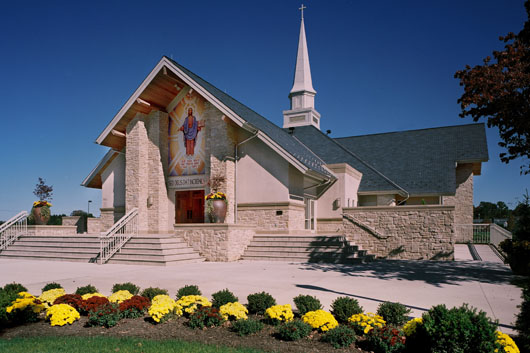 Most Catholics are familiar with Franciscan University of Steubenville as an institution of Catholic higher education that's faithful to the Church, but far fewer are aware of a hidden gem located about an hour-and-a-half north/northwest of Steubenville.
That gem is Walsh University.
Perhaps it's the inconspicuous name (the institution is named after the Diocese of Youngstown's former Bishop Emmett Walsh). Perhaps it's the university's North Canton suburban setting. Perhaps it's the fact that it has a different demographic set than similar schools (95% of the student body comes from in-state, a significant percentage are first generation college students, and somewhere between 50-70% of the student body is Catholic). For whatever reason, Walsh hasn't received the attention that it deserves.
I took a tour of the campus last week and interviewed several staff and students, including the president and the theology department chair. Make no mistake, Walsh University is Catholic.
Founded by the Brothers of Christian Instruction in 1960, the university has seen its enrollment climb 92% since 2001.
In his nine years as President, Richard Jusseaume has been leading the transformation on campus.
"The commitment to deliberately espouse our Catholic identity is what has brought about the blessings we've had on this campus," said President Jusseaume. "When we hire new people I talk to them about our identity and tell them that we're 'deliberately Catholic.'"
During his time on campus, a prayer garden and the university's first free-standing chapel has been constructed, campus ministry's presence has grown, and Eucharistic adoration, Rosary, and prayer groups have started.
"We were founded to make Jesus known," said Jusseaume. "I guarantee you that anyone who walks on campus knows that it's faith-based. I will not have anyone disparaging the rich Catholic tradition, because that's what creates the culture."
The campus' theology department is solid.
"All of our theology professors have the mandatum," said Father Patrick Manning, chair of the theology department. "It's a requirement of hiring."
The campus has a serious commitment to Catholic identity and hiring for mission.
In recent years, there's been a Dominican presence on campus, with a Dominican priest serving as the university's chaplain, celebrating Mass, leading vespers, Eucharistic adoration and processions.
One sign of a healthy Catholic college or university is whether it turns out any religious vocations. At Walsh last year, there were five students who went on to discern religious vocations.
Offering 51 undergraduate majors and an abundance of accelerated adult professional and graduate programs, the school is particularly known for its education, nursing, physical therapy programs and its unique majors in the medical field of Bioinformatics, and Museum Studies. The school has a serious commitment to service-learning, incorporating it into every major. One hundred percent of the schools graduates perform service work at some point during their years at the school.
Parents seeking a faithful Catholic college or university for their son or daughter would do well to add Walsh to the list. It's worth taking a look.