Bad Church Art!
Separated at Birth: L.A. Madonna and Samurai Jack?
Okay, so Jimmy got the ball rolling commenting on Rome's New UGLY John Paul II Statue … and then a reader commented:
Speaking of ugly religious-themed art, anyone ever see the statue of Mary that is in front of the LA Cathedral?  She looks like a character from Star Trek.
… so I just had to say something.
I know exactly what the reader is talking about. The allegedly Marian statue at L.A.'s Our Lady of the Angels does indeed look like a "Star Trek" character—specifically, like a Vulcan—but there's another pop-culture comparison that's even more appropriate.
So appropriate, indeed, that I have to ask:
Separated at Birth: L.A. Madonna and Samurai Jack?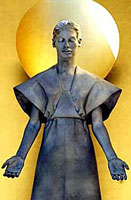 Statue allegedly representing the patroness of L.A.'s modernistic cathedral, Our Lady of the Angels.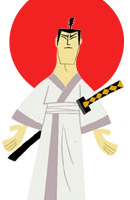 Popular Cartoon Network animated hero Samurai Jack.
So there it is. Make of it what you will.
Art matters. Sacred art doubly so. Bad art is a corrosive force on the spirit, whether it's bad hymnody or bad music generally, bad church architecture, bad movies, whatever. It's why I do what I do.
Incidentally, I'm thankful every week that Suz and I are able to bring our family to worship where we do. Some readers will remember that last Saturday—right around the time some were looking for earthquakes and the Rapture—our son James was confirmed with Jimmy Akin, his godfather, acting as sponsor. Here's the church where it happened: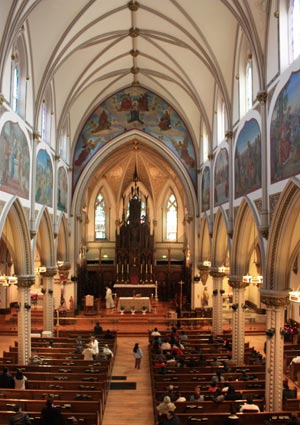 But we've been subjected to lots of bad church architecture and art, too ... a subject for another post, perhaps.
How about you? How beautiful, or otherwise, is your church? What bad or good sacred art have you seen?