Alfie Evans Dies
'My gladiator laid down his shield and gained his wings,' says his father, Thomas Evans.
The 23 month-old toddler, at the center of a legal battle between his parents, doctors and judges, passed away at 2.30am, his parents Thomas Evans and Kate James announced on social media. 
"My gladiator laid down his shield and gained his wings at 02:30... absolutely heartbroken... I LOVE YOU MY GUY," Thomas Evans said. 
Little Alfie's mother wrote: "Our baby boy grew his wings tonight at 2:30 am. We are heart broken. Thank you everyone for all your support."
In a statement issued on its website, Alder Hey Children's Hospital in Liverpool, England, said: "We wish to express our heartfelt sympathy and condolences to Alfie's family at this extremely distressing time. All of us feel deeply for Alfie, Kate, Tom and his whole family and our thoughts are with them. This has been a devastating journey for them and we would ask that their privacy and the privacy of staff at Alder Hey is respected."
Since the end of last year, Alfie's parents had been battling with Alder Hey hospital and English courts to continue to keep the toddler on life support.
Hospital doctors said there was nothing they could do for Alfie who had an undiagnosed degenerative brain disease, but his parents fought to keep him on a ventilator and sought treatment elsewhere.
The Vatican-run Bambino Gesù Children's Hospital in Rome was among a number of hospitals in Italy and Germany offering to care for Alfie, but English courts ruled against him being taken abroad.
The hospital removed Alfie's life support at 9.17pm local time on April 23, but against the predictions of his doctors, little Alfie survived and could breath unassisted. After some time, when Alfie began to struggle, the hospital agreed to again supply him with oxygen, nutrition and hydration, although it is unclear to what extent life support was returned.  
The case came to worldwide attention, drawing the sympathy of world leaders including Pope Francis who met Thomas Evans in private audience at the Vatican and issued a number of appeals on behalf of little Alfie and his parents.  
See also:
Alfie Evans Dies On Feast of St. Gianna Molla
The Agonizing Case of Alfie Evans
Why Alfie Evans Didn't Matter to So Many People
Timeline of the Alfie Evans Case
For those unfamiliar with the facts of the case, here is an explanatory timeline of events:
May 9, 2016: Alfie born in Liverpool, England, to Tom Evans and Kate James. 
Dec. 14: Admitted to Alder Hey Children's Hospital after seizures; remains 12 months.
Dec. 11, 2017: Hospital petitions British High Court to withdraw ventilation.
Dec. 19: Hospital says further treatment not in Alfie's "best interests." 
Feb. 1, 2018: Hospital lawyers tell High Court further treatment is "unkind and inhumane." 
Feb. 2: Doctors say Alfie is in a "semi-vegetative state" because of an unknown neurological condition.
Feb. 20: London High Court judge authorizes hospital to remove life support.
March 1: Parents appeal High Court ruling.
March 6: Appeals court judge upholds prior judge's ruling.
March 8: Parents appeal to Supreme Court.
March 20: Supreme Court refuses to consider appeal.
March 28: European Court of Human Rights refuses to hear case.
April 4: Pope Francis appeals on Twitter on behalf of Alfie's life.
April 16: Parents mount a "wrongful detention" appeal against the hospital. 
April 16: Court of Appeals rules against parents.
April 17: Parents appeal to the Supreme Court a second time.
April 18: Tom Evans flies to Rome to meet the Pope.
April 20: Supreme Court rules against parents for a second time.
April 23: Alfie granted Italian citizenship to facilitate transfer to Itay.
April 23: Pope renews his appeal calling for suffering of Alfie's parents "to be heard."
April 23: Alfie's life support is withdrawn.
April 24: Further appeal dismissed by High Court.
April 24: High Court judge suggests boy may be taken home, but not to Rome 
April 25: Parents appeal to Court of Appeals against High Court ruling.
April 25: All grounds of appeal refused by Appeals Court.
April 26: Tom Evans said he would work with doctors to give his son "dignity and comfort" and appealed for privacy "for everyone concerned."
April 28: Alfie Evans dies at 2.30am.
This is a developing story — check back here for updates.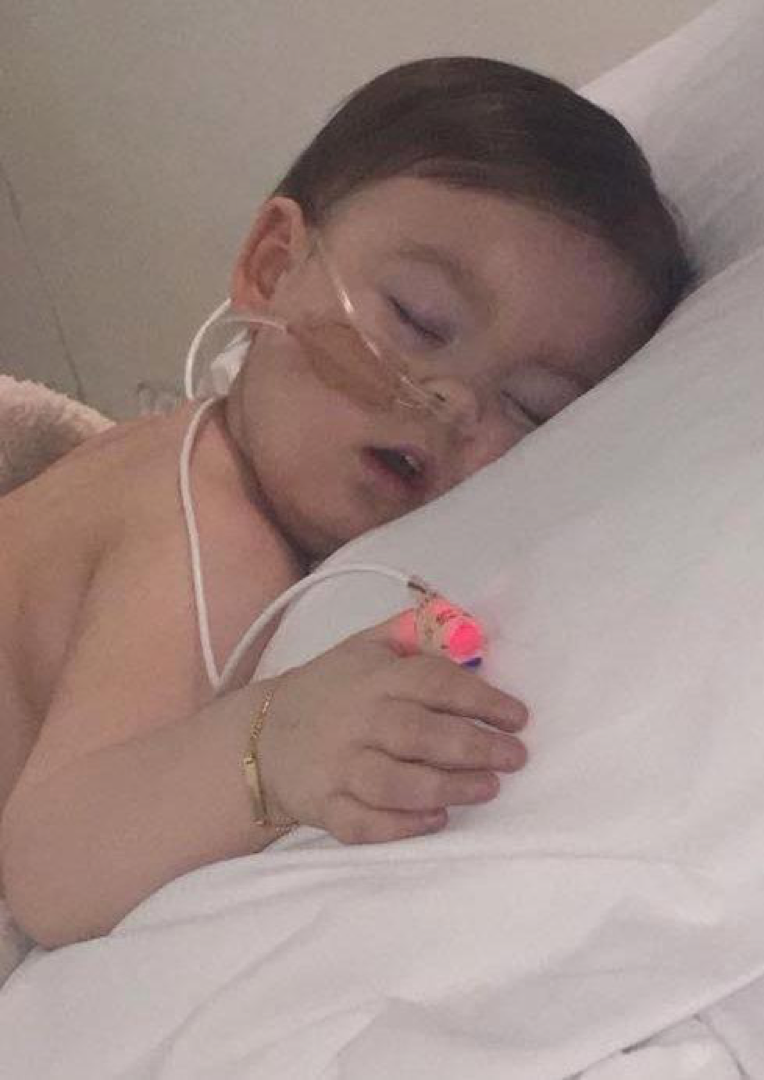 The last picture (above) taken of little Alfie before he went home to the Lord on Saturday morning. (Alfie's Army Facebook page)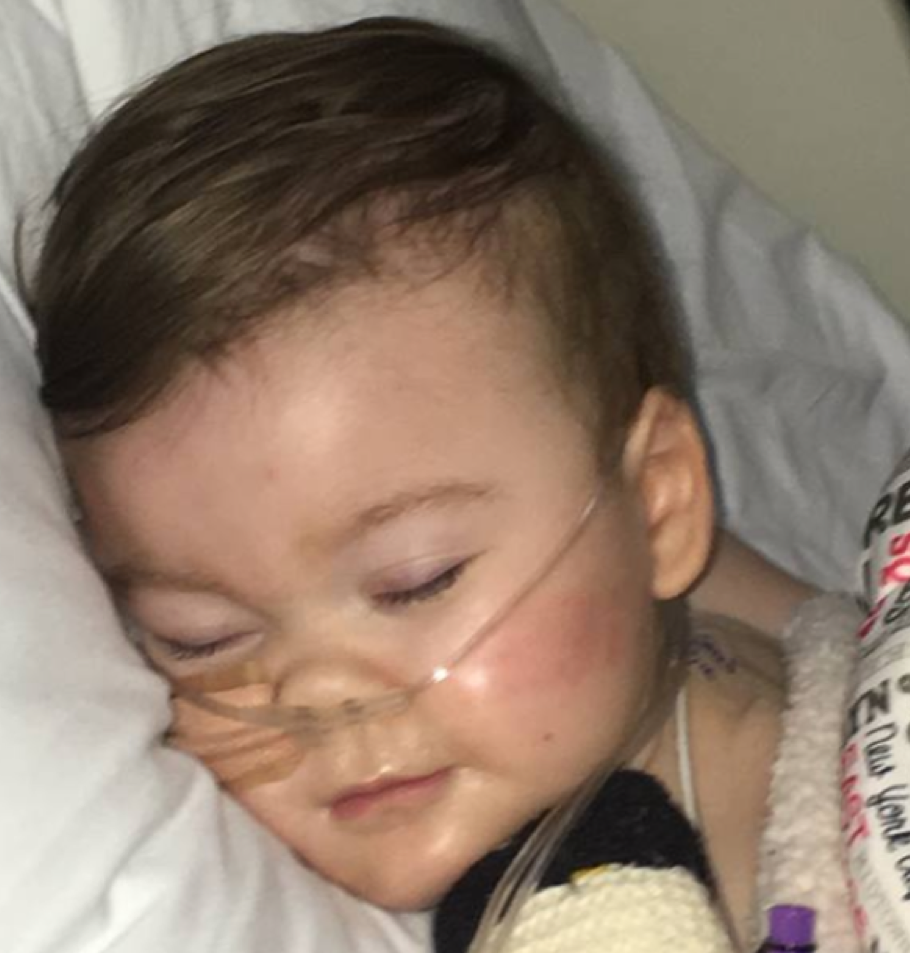 *** 
Dominican Father Thomas Petri, vice president and academic dean at the Dominican House of Studies in Washington DC tweeted:
#AlfieEvans passed away this night. Baptized and still under the age of reason, we are, therefore, confident he is now with God. We pray for his family, for his nurses, and for all who loved him and will grieve his death that they may be comforted by the hope of this truth.

— Fr. Thomas Petri, OP (@PetriOP) April 28, 2018
***
This afternoon, Pope Francis tweeted:
I am deeply moved by the death of little Alfie. Today I pray especially for his parents, as God the Father receives him in his tender embrace.

— Pope Francis (@Pontifex) April 28, 2018
***
The Italian pro-life group Famiglia Domani issued a statement on Saturday, announcing the death of little Alfie under the title of "Injustice Has Been Done." 
"The staff of the hospital in the British city [of Liverpool] carried out the death sentence of the British Supreme Court, with the endorsement of the European Court of Human Rights in Strasbourg, detaching little Alfie from the machines that kept him alive, contemptuous of the will of his parents and public protests all over the world."
The group went on to warn that "the infanticide committed in England is starting to be legalized in all Western countries," and added that it is in order to "defend the threatened lives of so many little Alfies" that the next Italian March for Life will take place in Rome on May 19.